It's been a busy Saturday around here at Two of Sticks headquarters! Editing by day and website tinker-smashing by night. As I was sticking out my tongue trying to make new pages (sorry, not even close to done yet!), I came across this happy hat and scarf set and remembered all the great collaborative efforts that went into it.
The yarn comes from the lovely
Crabapple Farm
in Chesterfield, MA. It's an enviably abundant and diverse farm that's the product of a lot of thought and effort. You'll often find me poking through their great selection of produce and heirloom vegetable plants at the local farmer's market. I even learned how to harvest wheat with a sickle or scythe at a workshop they held last summer! Sheep are just one spoke on the big wheel of life at their farm, but they produce a lot of hardy, springy, naturally colored wool that's spun into some really fun yarns by Green Mountain Spinnery.
Would you like some chard with that?
This batch was spun in a self-striping gradient, some from light to medium, some from medium to dark, and some going through all three (four? more?) in a very pleasant worsted weight single ply. When they asked me if I'd be willing to design a few patterns in their yarn, I couldn't say yes fast enough! I think I may have scared them a little.
After playing around with it, I discovered that somehow k1, p1 rib was just THE perfect stitch for this yarn. It created a soft and bodyful, almost double-knit-looking fabric, perfect for a man or woman and for knitters of any skill level, and perfect for turning into a free pattern to help sell some yarn! Now, it's not many people's favorite stitch to knit (bouncing back and forth between knits and purls is pretty cumbersome with most knitting methods). But if you've ever wanted to find a way to speed up your ribbing, this is a great place to practice!
You may have also noticed that the photography is just a
touch
better than mine usually is (did you also notice the understatement there?) That's because I was able to get my great friend and coworker
Lindsey Topham
to take some truly excellent photography. She and her assistant Amy are behind many of the amazing images at WEBS. Just watching them work has taught me more about photography than I've learned in all my years of camera-fumbling. So I'm especially proud to be able to showcase it here for my own fun little thing.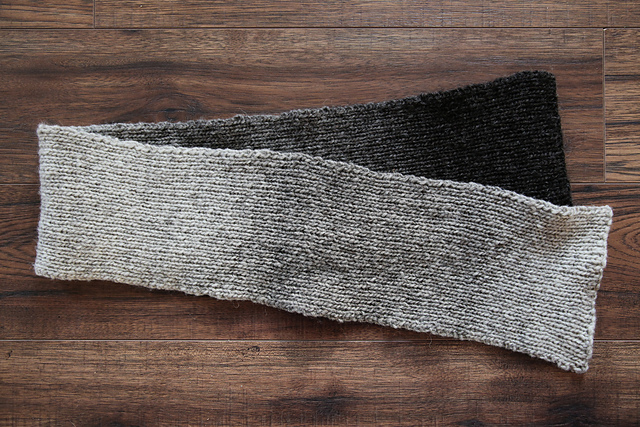 Gradients in wool, grain in wood! Loving it.
A collaborative effort from start to finish: from sheep to farmer, farmer to designer, designer to photographer and all the powers that be on the internet to allow the free distribution therein. A serendipitous chain of events to hopefully inspire knitters to connect up with their surrounding fiber community. You never know where it might lead!